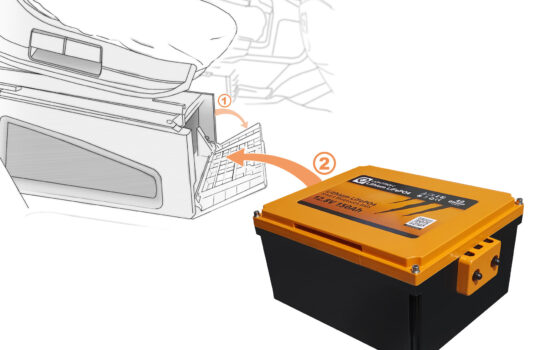 Space-saving installation under the seat with maximum capacity
Due to the specially designed small dimensions of the battery, it is particularly suitable for use in mobile homes and for installation under the passenger seat.
This LiFePO4 battery replaces lead-acid batteries with a much higher capacity thanks to its high, absolutely usable capacity, despite the extremely light construction.
The poles are arranged on the side; this makes the installation very uncomplicated for the common models.
In this way, a battery capacity of up to 200Ah can be installed under the driver's seat.
| - | | Product name | Volts | Ah | LxBxH | Weight | Data sheet | |
| --- | --- | --- | --- | --- | --- | --- | --- | --- |
| | | Lithium LiFePO4 LX Smart BMS Motorhome underseat batteries 12,8V 200Ah | 12,8 | 200 | 395 x 280 x 187 | 26,0 kg | | Buy now |
| | | Lithium LiFePO4 LX Smart BMS Motorhome underseat batteries 12,8V 150Ah | 12,8 | 150 | 395 x 280 x 187 | 21,0 kg | | Buy now |
| | | Lithium LiFePO4 LX Smart BMS motorhome underseat battery 12.8V 300Ah | 12,8 | 300 | 378 x 348 x 190mm | 34,7 kg | | Buy now |